Article originally posted on www.dairylandinsurance.com

(opens in new tab)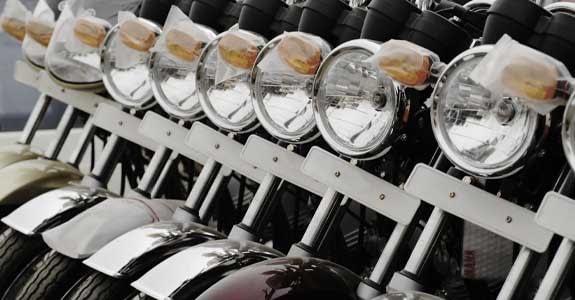 There are three epic biker rallies you need to attend—or visit again—as you start a new decade of motorcycle riding: Daytona Bike Week, Arizona Bike Week, and Sturgis Motorcycle Rally.
Motorcycle rally time is nearly upon us. Like motocross racers at the gates revving their engines, ready to roar forward to the checkered flag, the annual lineup of motorcycle rally and race events are getting revved up for you to ride to them.
The beginning of each motorcycle rally season is always an exciting time in the heart of every bike week-bound rider. This year is even more exciting, as it launches a new decade of motorcycle rally adventures.
Take the time to ride to motorcycle rallies and races
The best motorcycle rally experiences are found at the end of a great ride on a long, adventurous road. Your journey to a motorcycle rally and the ride home really is an integral part of the whole bike week experience.
When we look at the history of motorcycle riders founding these rallies, they all ride to the destinations. Let's make this the decade where we emulate those great riders of the past. After all, it was those long-ago pioneers who gave us a future full of motorcycling and motorcycle rallies by simply being enthusiastic riders bravely setting out to see America.
Epic rallies reaching major milestones along the road ahead
In this new decade, we can look ahead at the major motorcycle rallies and the epic milestones they will celebrate during the 2020s. It's a testament to the dedicated enthusiasm of motorcycle riders across America who've made these gatherings grow from small regional events into the international mega motorcycle rallies they are today.
Daytona Bike Week 2020 – 79th Spring Rally
This year, the annual Daytona Bike Week is celebrating its 79th running as the de facto start of the motorcycle rally season. It was born as a racing celebration around what would become the Daytona 200 motorcycle race. Back in the day, the race began on a course that included running up the beach and back down Atlantic Avenue.
This year's Daytona 200 will be held at the Daytona International Speedway on the mainland, but the party is still on the beach. Main Street is the place to be seen and to see the whole wide world of motorcycling parade down the street and shuffle along the sidewalks.
Atlantic Avenue, while no longer part of the racecourse, has turned into a slow crawl feeder for the Main Street rolling bike show. The big action is still focused on Main Street and the speedway. However, bike week has grown to include events, food, live entertainment, and races across Volusia County and beyond. After a long winter's slumber, this motorcycle rally is a welcome relief for motorcycle riders from the snow-belt states.
Daytona Bike Week details
When: March 5–16, 2020
Website: officialbikeweek.com
Milestones celebrated this decade:

2021: 80th anniversary
2026: 85th anniversary
Arizona Bike Week 2020
The youngest of these three popular annual biker rallies is Arizona Bike Week. This year marks the 24th year for the event, which started in 1997. From hundreds of attendees that first year to more than 70,000 in recent years, this motorcycle rally is drawing motorcycle enthusiasts from the far horizon.
Rally headquarters is located about 30 miles northwest of downtown Phoenix in North Scottsdale, at the 360-acre WestWorld special event site. The event welcomes you to a one-stop rally experience. You can park your motorcycle and enjoy vendors, bike and stunt shows, live music, camping, and partying, topped off by concerts at night. When your legs get tired of rally fun, there are multiple charity rides and organized runs to get your motorcycle moving.
The best-kept secret of this motorcycle rally is the great spring weather in Arizona, combined with the beauty of the desert and mountain landscape. Northwest of the rally headquarters is the Tonto National Forest, offering motorcycle riding from the Sonoran Desert at 1,400 feet up to an elevation of 7,400 feet on the Mogollon Rim escarpment.
Just like the successes of Daytona and Sturgis have spread the rally fun in an ever-widening radius around the original epicenter, Arizona Bike Week has created the same ripple effect. Now you can find motorcycle event action in Cave Creek, Arizona, and the surrounding greater Phoenix area.
Arizona Bike Week details
When: April 1–5, 2020
Website: azbikeweek.com
Milestones celebrated this decade:

2021: 25th anniversary
2026: 30th anniversary
Sturgis Motorcycle Rally and Races 2020 – 80th "Black Hills Classic"
Sturgis, South Dakota, is almost 2,000 miles away from Daytona Beach, Florida. In fact, the sleepy little western town is pretty far from just about everywhere.
Yet, this small town is close to the hearts of motorcycle riders the world over. Clarence "Pappy" Hoel and the Jackpine Gypsies motorcycle club started the event in 1938, and it featured a race called the Black Hills Classic.
The rally's name has changed over the years, but motorcycle riders everywhere simply know it as Sturgis. Located at the northeastern boundary of the Black Hills National Forest, the rally has what many riders believe is the best motorcycle riding opportunities of any rally. From Mount Rushmore and Devils Tower and Spearfish Canyon to Badlands National Park, the riding and sights to see are all epic.
The rally generally draws more than 500,000 attendees on any given year in recent times, and for the 75th anniversary, more than 700,000 motorcycle enthusiasts attended. How many hundreds of thousands will show up this year for the 80th anniversary?
One outstanding number associated with Sturgis is the number of miles you can put on your motorcycle riding to see all the sights. It might just be more than the mileage to get to the rally.
Sturgis Motorcycle Rally details
Epic rides to epic rallies
It takes lots of planning and preparation to get a motorcycle and rider ready for a long-distance road trip. This is actually where the fun begins, when you select a route and picks sights to see along the journey.
Between closing your garage door and your safe return home, make sure to plan on the unexpected and have a plan to protect yourself and your motorcycle.
Since no rally experience is complete without buying a few T-shirts and maybe a chrome doodad for your trusty motorcycle, it's never too soon to start saving for the big event!
Till next time, ride safe!
Related links:
As you plan your motorcycle trip for this year and the rest of the decade, here are some of the best motorcycle rides in the U.S. by region.
Some of these motorcycle rallies and bike week events take place far from home. Here are some motorcycle safety tips for long-distance rides.
Dairyland® is affordable insurance that works for you.
No matter what journey you're on, we're all driving down the same road. And we're here to help protect you when you need us most. For decades, customers like you have trusted Dairyland® for:
Car insurance
Motorcycle insurance
We offer customized coverage, money-saving discounts, flexible payment options, SR22s, and outstanding customer service.
Contact Action Insurance Agency today to experience the Dairyland® difference for yourself.
Filed Under: Motorcycle Tips
|
Tagged With: Motorcycle Insurance, Personal Insurance