Article originally posted on www.dairylandinsurance.com

(opens in new tab)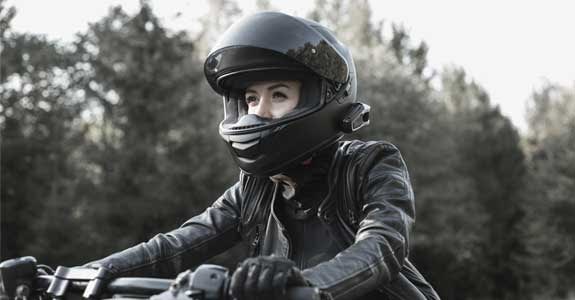 Understand the importance of motorcycle insurance coverage
When you're out for a ride, you want to live in the moment—which means you don't want a bunch of what-ifs rattling around your brain.
"What if I get in an accident?"
"What if I get pulled over?"
"What if my battery dies?"
Quality motorcycle insurance coverage can help put your mind at ease—and it helps ensure you ride in accordance with state and national laws.
Choosing the right coverages takes time, but it's worth it. Use this 101 guide as you research carriers, coverages, discounts, and everything else that contributes to your decision. Because whether you're a veteran rider or this is your first time buying motorcycle insurance, knowledge is crucial to getting what you need without paying for the extras you don't.
Motorcycle insurance costs
There's a lot to consider when shopping for insurance, but ultimately, it comes down to quality and value—specifically, finding the sweet spot where you get the best of both. And as nice as it'd be to have a cut-and-dried response to "What does motorcycle insurance cost?", the answer really comes down to "It depends."
If you've purchased car insurance, you're familiar with many of the factors that can impact your monthly premiums for motorcycle insurance—from your payment and riding history to seemingly mundane things like your age and ZIP code. Some insurance carriers weigh these factors differently, so compare quotes to find coverages at rates that work for you.
You could also be eligible for a range of discounts on your motorcycle insurance coverage. Here at Dairyland®, we're committed to making our already affordable coverages even more accessible by working with you to identify savings on your motorcycle insurance. Completing a motorcycle safety course is one of the many ways to start earning discounts.
Motorcycle insurance coverage requirements
48 states require motorcycle owners to carry motorcycle liability insurance. So unless you live in Florida or New Hampshire, make sure you meet your state's motorcycle insurance requirements before you start riding. Additionally, each state has its own established coverage minimums, so check in with your local motorcycle dealer, your agent, or your insurance provider.
Give us a call—we're here to help.
Liability insurance coverage
Your liability insurance coverage helps cover losses in an accident you cause. Each liability policy includes two elements:
Bodily injury: Bodily injury liability insurance covers lost wages, pain and suffering, and medical bills for individuals hurt in an accident you cause. And, if the worst-case scenario occurs, it covers others' funeral expenses as well.
Property damage: Property damage liability covers damages to other people's property. But keep in mind, it doesn't cover damages to your property—you'll need additional coverage for that.
Motorcycle insurance coverage options
Once you meet your state's insurance requirements, you can decide which additional coverages make sense for you. Think about where you ride, how often you ride, whether you often have a passenger, and other factors.
The first group of optional coverages we discuss are unique. In some states, providers automatically add some or all of these coverages to your policy unless you specifically reject them. Remember, this varies by state, so be sure you review your policy carefully.
Underinsured motorist bodily injury (UIMBI): If you're injured in an accident caused by an insured driver, your next steps seem clear. But what if their insurance policy isn't enough to cover your injuries? UIMBI provides additional injury protection for you and your passenger's costs and damages.
Uninsured motorist bodily injury (UMBI): This coverage offers similar protection to UIMBI, except it offers additional protection for the costs and damages of your injuries caused by an uninsured driver.
Uninsured motorist property damage (UMPD): If your bike is damaged in an accident caused by an uninsured driver, UMPD offers additional protection for the damages.
The insurance coverages below are optional in all states. Keep in mind, your requirements may vary based on a number of factors, including whether you lease your bike or own it outright.
Medical payments coverage: Being injured in an accident can be scary—and expensive. This optional coverage can help pay for you and your passenger's medical bills.
Collision: Let's say you hit another vehicle or object. With a liability-only policy, you can leave yourself vulnerable to the possibility of paying for expensive damage repairs yourself. With collision coverage, you receive extra protection for damages that aren't caused by another driver.
Comprehensive: Motorcycle repairs can be pricey. Purchasing comprehensive motorcycle insurance coverage can help pay for damages that aren't covered by other types of insurance—for example, if your bike is damaged in a fire or flash flood, or is stolen or vandalized.
Guest passenger: If you plan on riding with a passenger, consider purchasing guest passenger coverage. If your passenger is hurt in an accident, it can help provide additional protection for their injuries.
Optional/special equipment: Customizing your bike does more than make it stand out—it makes it your own. That's why optional/special equipment motorcycle insurance coverage can provide real value. It helps protect against loss or damage to permanent, non-factory-standard equipment, based upon the value it adds to your motorcycle.
Rental reimbursement: Having your bike repaired after an accident solves one problem, but introduces another: How do you get where you need to go? Rental reimbursement insurance coverage helps cover the cost of an eligible rental while your motorcycle is in the shop.
Replacement cost: Let's say you're in an accident, and your bike is determined to be a total loss. If it's less than four years old, replacement cost insurance coverage helps you pay for a new bike.
Roadside assistance: Equipment failures always seem to happen at the worst time, don't they? If you experience a mid-ride mechanical or electrical breakdown, roadside assistance coverage is here to help. You'll have access to a toll-free, 24-hour towing and roadside service to help you handle:

Empty gas tanks
Dead batteries
Lost keys
Flat tires
Low oil, fluids, or water
Full-coverage motorcycle insurance
You'll probably encounter the term "full-coverage insurance" as you research different motorcycle insurance providers. Because there's no standardized definition of full-coverage motorcycle insurance, you could end up with a policy that doesn't meet your expectations—and that potentially leaves you financially liable for losses you thought were covered.
That's why we recommend working with an insurance provider who can customize a policy with clearly defined coverages you choose—and understand. Start by requesting a free, quick motorcycle insurance quote from Dairyland today.
Which is the best motorcycle insurance coverage for you?
Simply put, the best motorcycle insurance coverage is the one that provides the right amount of coverage for the right price. And that depends on you, your bike, and your financial situation. As we've discussed, there's a lot to consider when purchasing motorcycle insurance. But you don't have to do it alone. Our knowledgeable, experienced team is here to help you identify the coverages—and discounts—that make sense for you.
Related links
We hope this 101 guide helps you discover the right motorcycle insurance for you. But we know there's always more to learn. Check out our frequently asked questions section for more info.
Dairyland® is affordable insurance that works for you.
No matter what journey you're on, we're all driving down the same road. And we're here to help protect you when you need us most. For decades, customers like you have trusted Dairyland® for:
Car insurance
Motorcycle insurance
We offer customized coverage, money-saving discounts, flexible payment options, SR22s, and outstanding customer service.
Contact Action Insurance Agency today to experience the Dairyland® difference for yourself.
Filed Under: Motorcycle Tips
|
Tagged With: Motorcycle Insurance